Get Last version and instructions  here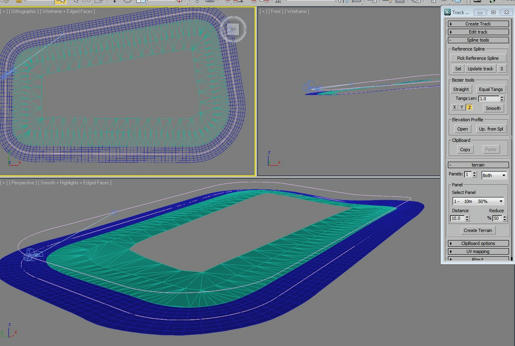 Track Maker pro 0.85c
+ Fix Cambers in close splines
+ Fix bugs
+ Add  Smooth Bezier  knots  function.
+ Remove  spline Align  tool. Hybrid Align points now  is in PointsTools script.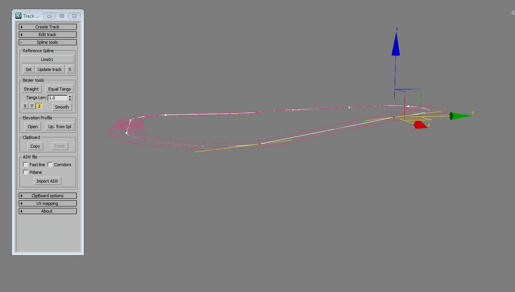 Trackmaker 0.84 fix mapping V coords

Full options
Create Track | Edit Track | Vertex Clipboard and UV map
Install:
Unzip and copy folder "Scripts" to your MAX folder "Scripts".
The script is in "3ds Max\Scripts\Trackmaker".
If you want do add the script to a menu or toolbar go to "customize user interface" and look for "Category:MMtools" and drag into a menu or toolbar.
How to install

Spline Tools 0.83

Start a track

Version History.
+ Track cam
+ Cambers in degrees or  percent
+ Linear Interpolation for selected cambers
+ Adjust  left/right line from a spline
version 0.9c
+ Fix cambers  influence
+ Add track edges
+ Add terrain panels
version v 0.81
Changes:
Some bugs fix
– Can update track by a reference spline
Version v 0.82
– Fix lines distribution. Issues to solve :  first  line  in middle of selection
– build-in Better Normalize spline
Version 0.82b Bugs fixes  and  optimizations
Version 0.82c
Bug fixes and optimizations
– Added More Spline Tools  Straight Line  and  Equal Tangs ( Curves)
Reset  all Bezier tangents.
"Straight Line"
Select two bezier vertex  and press "Straight Line" button several times until get a  straight line.
"Equal Tangs"
Select two bezier vertex  (start  curve and finish) and press  "Equal Tangs" once. Then change  the  value "Tangs Lens" until you get to obtain the desired curve.
Track Maker pro 0.83
+ Elevation profile
+ Export/import to CSV file
+ Bezier tools
Straight Lines
turns equal tangents
Track Maker pro 0.84
+ Fix  V coordinates  of spline mapping
+ Reorganize UI
+ Fix bug  when select  last and first  crosslines.
Track Maker pro 0.85
+ Import AIW
+ Fix bugs
+ Reference Spline stored in track
Track Maker pro 1.0d
+ Bugs fix
+ Update Track from reference spline now keeps cambers
+ Add Xobjects